OUR WEEKLY PROGRAMME
Our Sunday Services Start At 10.45 am and At 6.00pm.
On Mondays it is our time of Praise and Bible Study Starting at 7.00pm.
On Fridays we have our time of Praise and Prayer Starting at 7.00pm.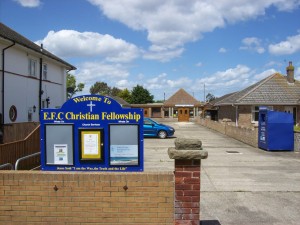 We are The EFC Christian Fellowship and Located at Sutton On Sea near Mablethorpe in Lincolnshire.    
We are developing our vision for a more open and free church so everybody is free to share and are encouraged to grow in their Spiritual Gifts, our meetings during the week are becoming more open with more discussion. Most important our love for one another In Christ is evident as we seek to place Christ at the centre of our church. We are more active in the Community as we have Line Dancing in our Hall on Fridays and a growing  Thursday evening fellowship where we play Table Tennis, Pool and other games. Occasionally we have Table Top Sales in the Car Park and have held a Quiz to raise money for Churches Together in which we take an active part in. Please pray for us to continue to do new things to Outreach and support charities. We undertake open air Outreach every week in our local communities.
We are an Independent Church but we are in Partnership with Rural Ministries….. this is their website     www.ruralministries.org.uk
  Our email address is robbobutt777@uwclub.net